Couples for Christ Pastoral Formation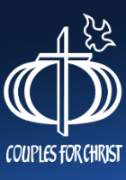 The basic formation track of CFC will continue to be enhanced with additional focus on courses on the following:
Deepening of Spirituality 
Strengthening of Family Life
Mission and Evangelization
Principle of Stewardship through Financial Stewardship , Work with the Poor Retreat, and the Social Teachings of the Church
Show more >>
Couples for Christ (CFC) is a movement intended for the renewal and strengthening of Christian family life. The members have committed themselves to the Lord and to one another so that they may grow in maturity as men and women of God and fulfill their primary vocation of raising up families under the lordship of Jesus Christ and for the service of the Kingdom of God.
Couples for Christ is a work of Christ which raises up Christian couples and establishes Christian families committed to the work of evangelization, winning the world for Christ and Total Human Liberation through the power of the Holy Spirit.
It grows mainly through the establishment of localized units in different parishes.
Location
Good Shepherd Church
Parish Hall 14187 SW 72nd Street, Miami, FL 33183 (Map)
Contact Information
Marilyn Marasigan
786-546-6297