Campaign for 13 Million Rosaries
Next date: Apr 26, 2017 - click here for time schedule - Bilingual (English and Spanish)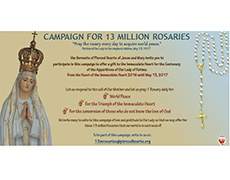 Campaign for 13 million rosaries
"Pray the rosary every day to acquire world peace."
The Servants of the Pierced Hearts of Jesus and Mary invite you to participate in this campaign to offer a gift to the Immaculate Heart for the centenary of the apparitions of Our Lady of Fatima - from the feast of the Immaculate Heart 2016 until May 13, 2017.
Let us respond to the call of Our Mother and let us pray 1 rosary daily for:
 World peace
The triumph of the Immaculate Heart
The conversion of those who do not know the love of God.
In an e-mail to 13mrosaries@piercedhearts.org, write your name, your daily offering of the Holy Rosary for these three intentions of the Maternal Heart of Mary, and your city and country.
If you are a prayer group, please, send the names of all the members who are committing themselves to pray this Rosary daily, and the city and country they are from.
If you are a whole family, also send the names of each member, your commitment and where you come from.
Thank you for responding to such an urgent call from Our Lady! 
Location
Servants of the Pierced Hearts of Jesus and Mary
Archdiocese of Miami, Miami, FL 33138 (Map)
Contact Information
Servants of the Pierced Hearts of Jesus and Mary